July 18, 2020
0 Comments

Sticky

Not all around the world cares how things operate in today's virtual world which makes them a good bait for fraudsters ready to use all personal information as a tool to get profits through unscrupulous means. If you are not aware of such virtual assaults and frauds, then there's something to worry about as online frauds, phishing, cloning etc have become a part of daily news these days globally. One needs to be very careful not just in the real world but in virtual space as well. Proxy sites are one such tool that masks your information and keeps your identity and data secure from online scammers who are actively on a look out of misusing your personal data and hack into it for their gains.
Basics of internet functioning and IP addresses
The way internet operates is pretty much simple. Whenever a web request is keyed in to open a browser, the request is send to the respective server which in turn throws the result. In the process, the user leaves a cyber-trail in form of IP address, geo location, device details and at times details pertaining to contacts and other personal information.
Internet Protocol (IP) address is considered to be the postal address of the device from which a webpage has been accessed. It is a 32 bit number which denotes local internet registry detailing information on internet service providers and end user location. Even though IP addresses look like a bunch of numbers separated by dots, it can actually trace the path and locate the exact position of the device from where the webpage has been accessed.
Functioning of a Proxy Server
Gateway between any end user and the internet can be a perfect example of a proxy server. Whenever a search request is made, instead of going to the server directly it passes through a proxy server which acts as an intermediary layer between user and server, making the necessary request to the server on user's behalf. Proxy servers in general provide varying levels of functionality, security and privacy depending on user requirement.
Usage of proxy server terminates the direct linking of the end device and the server which eliminates the server from using your information. A proxy server makes changes in your data including the IP address and other necessary information. Modern proxy servers are more dynamic in nature, rather than being just a forwarding agent of web requests. They are also into data security and network performances, acting as a firewall and web filter that improves network speed and connectivity. A robust proxy server keeps users and the internal network safely protected from the big, bad, ugly world of internet where every user is vulnerable to online fraudsters.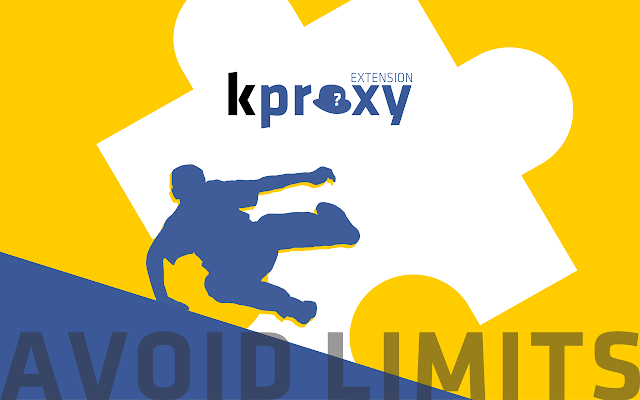 Hide your online identity with KPROXY
KPROXY is a popular free to use proxy server in operation since 2005. This is a great tool to mask your online identity while you perform your regular browsing. Over 15,00,000 users utilizes KPROXY's features to bypass online blocks on a monthly basis, and browse those banned sites like a local. KPROXY takes pride in protecting user identity and allows access to censored sites. Another feature that makes it one of the finest proxy site is its Chrome extension that makes surfing easy and simple. You need not install any software or type out web addresses every time, instead all you need to do is to add the available extension to the chrome browser which even acts as a filter to all internet traffic. KPROXY is often considered as a better option than any VPN, even though it connects via normal HTTP. KPROXY is available for subscription also. Through KPROXY Agent any user can bypass a company filter on either Windows or Linux or Mac operating system. They have a robust online FAQ section that helps out in every aspect of this proxy sites installation and functioning.
KPROXY Advantages
KPROXY is completely safe and protects user data from snooping by ISPs. Through their extensions it is safe to use public wi-fi connections too. Sensitive information like bank details and credit card data are safeguarded too. Government or workplace censorship is ineffective at KRPOXY sites, hence browse at peace without any worry. Some of the benefits of KPROXY server are as below:
Free to Use – KPROXY is free to all the users with most of its features activated. You don't need to provide credit card details nor is any registration required. However a paid version called KPROXY PRO is available with enhanced features and dynamic functions.
No Complex installation – there's no such software that needs to be installed, as it works as normal HTTP sites. However, extension for Chrome and Firefox is available, which eases your effort to browse those frequently visited sites. The extensions are just a click away and is readily available on their webpage.
Shields IP address – KPROXY efficiently masks your IP address and brings in the right results you are looking for. It can also help you gain access to different platforms without revealing your identity or any of your personal and private data. It encrypts the connection between user terminal and server, making it impossible to penetrate and steal data.
KPROXY Pro – By subscribing to Pro version you get a host of attractive features like unlimited usage of extension, Ads free browsing, faster speed, unlimited downloads, guaranteed access to banned sites and many more. Pro comes with a 30 days money back guarantee and has three plans – Basic, Premium and VIP. The payment is based on the days of usage and not for total month, which is again very customer centric and user friendly.
Extremely good performance and great expert reviews.
Though KPROXY comes with some great benefits, few pointers can be considered as demerits and should be kept in mind before using this proxy server.
The free version of KPROXY is limited and provides limited features.
KPROXY also stores some of the user's log which again questions data security and privacy.
Even though it has a paid version, it is not considered to be within elite league of proxy servers.
No matter how good a Proxy server is, it can never be as good as a VPN to keep anonymous.
VPN vs KPROXY Server
VPNs are by far the most secured choice when it comes to full anonymity as it encrypts all the traffic. Which means no hacker or cyber fraudster can ever intercept the data transmission between your computer and a VPN server, as a result all sensitive personal data is hard to get compromised. VPN not only maintains anonymity and helps circumvent all geographic filters but inspects all the traffic and filter it carefully. It automatically blocks suspicious pages and sites that host malware. Since VPN servers are constantly updated with the latest happening in cyber world, you get the guarantee of total protection round the clock from latest virus threats and sophisticated cyber-attacks.
As compared to VPNs, KPROXY server only redirects we request thereby masking the user IP details. However, web traffic between any user computer and proxy server, and then again a proxy server and website is unencrypted, making it damn easy for a high skilled hacker to intercept sensitive data in transit and be a spoilsport. KPROXY extensions are more commonly used by institutes and companies to keep a track of internet usage on the devices of their company. It operates like a simple HTTP, unlike any VPN which would need system to be configured accordingly.